COMPALARM B

Version for particularly applications (Banks, Hospitals and, any type of private or public buildings). This system is available in surface or flush mounting solutions.
<![endif]>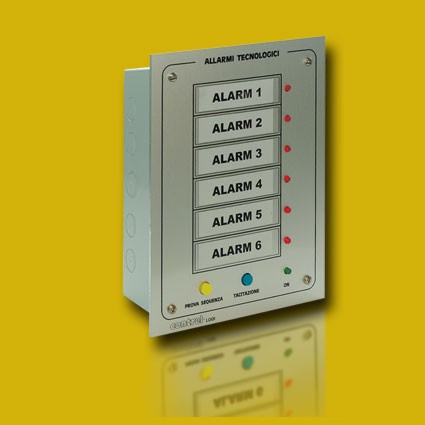 COMPALARM B is an alarm system conceived with the aim of optimising the space saving so as to enabling its installation in standard civil buildings. It doesn't need of electric panel, and it can be housed in a flush mounting box.
This system is suitable for the control of 6 points, with information received from voltage free external contacts, either normally open or normallyclosed. The selection of contact types is made by means of dipswitches, placed inside of the device.
Displaying of alarm condition is obtained through LED, whilst the acoustic is blown by an internal buzzer. Every alarm point is also provided with a change over contact, which repeats with accuracy the input contact condition, for eventual remote repeating requirement. An output relay for possible repeating of acoustic signal is also available.
COMPALARM B is also provided with a particular operative logic, which allows its installation in unattended places. This, because after a certain period of persisting alarm condition, the acknowledgement takes automatically place.
As far as its construction is concerned, COMPALARM B is practically immune to disturbances, due to its optoisolators separation, between the external contacts and internal circuits on alarm inputs.
ELECTRICAL CHARACTERISTICS
Auxiliary power supply: 220 V
Alarm sequence: ISA1
Input contact: NO or NC selectable by means of dipswitch
1 changeover output contact per alarm point, which allows the repetition of the input contact position
Optical signal for presence of auxiliary supply: green LED
Optical signal of alarm: red LED
Acoustic signaling: with internal buzzer or with a changeover relay for remote repetition
Sequence test push button: built in
Push button for acknowledgment: built in