COMPALARM C1
<![if !vml]>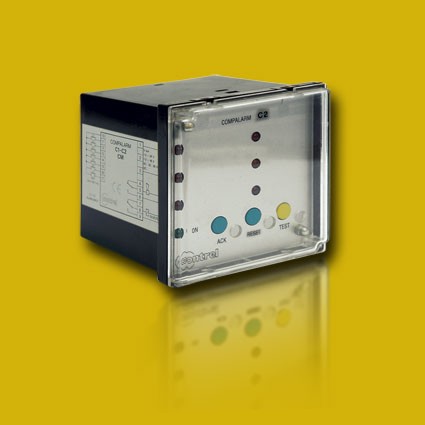 <![endif]>
The alarm system COMPALARM C has been designed with the purpose of reducing to minimum extent its overall dimensions, but maintaining all the characteristics of COMPALARM A. For this reason, the 6 alarms system, has been housed in a 96 mm x 96 mm enclosure and available in different versions as:
COMPALARM C1 for ISA1 sequence
COMPALARM C2 for ISA2C sequence
COMPALARM C is fitted with LED's at the front of the device, for the optical signalling, whilst for the acoustic signalling there is an output relay available. There is also available an output relay, for remote control of system in alarm.
This system is capable of receiving any signal, arriving from external potential free contacts, either normally open or normally close. The selectionis made through dipswitches, placed on the PCB and easily reachable by one side of the relay.
ELECTRICAL CHARACTERISTICS
Auxiliary power supply: 110, 230, 400 V a.c. or 24-48 V a.c./d.c.
Input contact: NO or NC selectable
Output with 2 relays: Acoustic signal relay, Remote control relay
Auxiliary voltage signal: Green LED
Alarm signal: Red LED
Push button for test: built in
Push button for acknowledgement: built in