COMPALARM C2C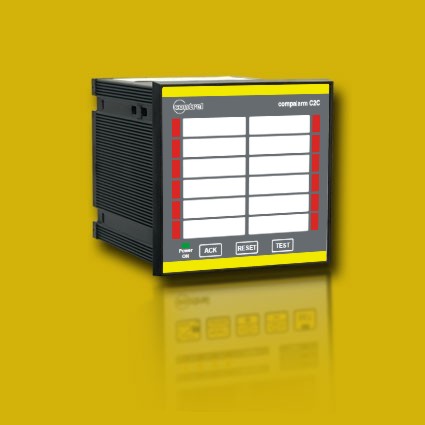 The COMPALARM C2C is a very compact and efficient alarm system, suitable for 12 points connection, with NO or NC input contacts and LED signals. This system is suppliedin a96 mm x 96 mm enclosure for flush mounting. An easy alarm's description printing, easy wiring by plug-in terminals and a good front protection degree, come to complete this attractive alternative.
The COMPALARM C2C is being manufactured, in such a way to be capable to ensurean intrinsically safe reading of the inputs.
The know how, used in the present instrument, has simplify ed the circuits up to a maximum, granting a high reliability and safety for avoiding false signals. It has also enabled to have a high immunity degree against external disturbance and signal management with increased voltage capability.
The electronic management system allows to program thealarm behaviour, according with the ISA S 18.1 standard.
Compact alarm system, with a basic module of 12 signals
Easy printing of the alarm points description
Optoisolated inputs for 24 ÷ 230 V, NO or NC contacts, which can be set point by point
Signal power free inputs
8 Alarm sequence possibilities according with ISA S 18.1
Easy and fast programming by dipswitches
"First out" feature for recognizing the first tripped alarm
Communication port RS485
Ethernet communication
Communication protocol MODBUS-RTU and MODBUS-TCP

TECHNICAL DATA
Supply voltage: 115 or 230 V - 50/60Hz or 85÷265Vac/dc
Line fuse (external): 500 mA
Connector: 5.0 mm pitch extractible screw terminals
Operating temperature: 0 ÷ 60 °C
Max switching current: 5 A @ 250V cosø = 1
Input channels: 12 optocoupled
Input pushbuttons: 3 optocoupled
Inputs Voltage: 24 / 48 / 115 / 230 Vac/dc ± 20%
Output channels: 2 SPDT contacts