COMPALARM CM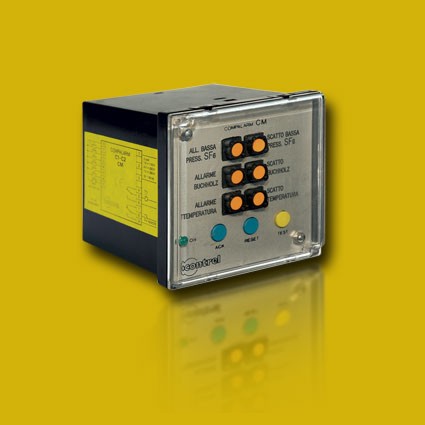 The COMPALARM CM devices allow to maintain the information of the parameter in avery or alarm, even without the auxiliary power supply or voltage black out.
As a matter of fact, whenever any parameter fails and it is associated to an alarm signal, the mobile flag-sited at the front panel - will turn to orange, due to its magnetic witholding.
It is only possible to return to the initial position by an opposed polarity pulse by pressing the reset button, after that the external anomaly has disappeared.
The COMPALARM CM is fitted with two output relays, with a different switching system, according with different version types.
In the CM4 and CM6 versions, the output relays will be excited simultaneously, when one of the input contacts is closed. Then the associated relay to the acoustic signal may be brought to the reset position by pressing the acknowledging push button, even with an existing external anomaly.
The most suitable solution for the transformers control is the CMT type, this is to say: it becomes the idoneous substitution of the classic relays built-in a panel, with the addition of the 96 mm x 96 mm drill, the grouping of6 signals in an unic compact enclosure and the possibility of controlling 2 output relays (siren and disconnecting coil) without further wiring.
Other particular feature, common to all COMPALARM CM series, is the multipleauxiliary supply and the possibility of remote acknowledgment of thesiren.
ELECTRICAL CHARACTERISTICS
Auxiliary power supply: 110, 230, 400 V a.c., 24,48 V a.c./d.c., 110 V d.c.
Input contact: NO
Output with 2 relays: acoustic signal relay, remote control relay
Auxiliary voltage signal: green LED
Alarm mechanical signal: orange colour
Push button for test: built in
Push button for acknowledgement: built in
Push button for reset: built in
Versions: CM2 - CMT2 2 mechanical signals, CM4- CMT4 4 mechanical signals, CM6- CMT62 6 mechanical signals