ELR-3C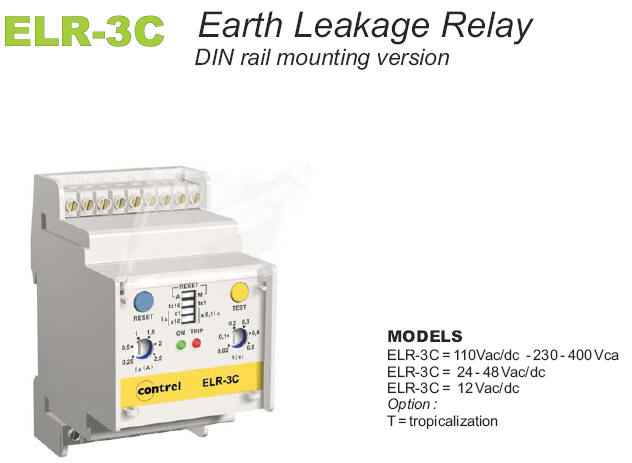 The ELR-3E has a wide setting ranges and the accurate tripping current selection (by means of dipswitches), in order that the contact voltage values are maintained below 50V as required by the CEI 64-8 Standard.
This is also the suitable answer for a proper selectivity, whenever there are other ELR's or/and RCD's downstream or upstream in the line to be protected. An outstanding characteristic of the present relays, is the permanent control of the Toroidal - ELR circuit.
Its interruption brings along the immediate trip of the protection. This allows to identify the anomaly, without waiting to the periodical control, made with the Test push button.
The instrument , fitted with filters at the input circuits, is practically immune to external disturbances, so as the pulse currents with dc components, complying with the requirements of VDE 0664 and project IEC 23 Standards.
The ELR-3E has a manual reset option only, in order to avoid unexpected reset, whilst undergoing repairs and maintenance works. Its sealable front transparent cover may be used to avoid access to the settings to unauthorised persons. It may also be coupled to any of our CT-1 Toroidal Transformers.
ELECTRICAL CHARACTERISTICS
Auxiliary Voltage supply: 24, 48, 110 V a.c./d.c. 230, 400 V a.c.
Current tripping ajustment range IΔN: 0,03 - 0,1 - 0,3 - 0,5 - 1A
Tripping time adjustment range t: 0,02 - 0,2 - 0,5 - 1 - 5 sec
Output: 1 changeover contact: 5A 250V
Working Temperature: -10 + 60°C