ELR-8V ELR-8tcs ELR-8MVtcs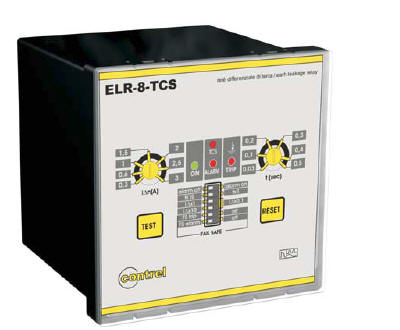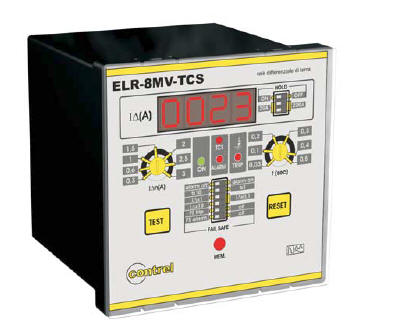 ELR-8V
The ELR-8V is being manufactured in a DIN 96x96mm enclosure for flush mounting, It can be connected to any of our toroidal transformers of the CT-1 (closed core) and CTA-1 (split core) series.
The relay has a wide adjusting range, either in current sensitivity as in time delay . The mentioned setting range allows an easy selection of the tripping value, in order to maintain the voltage contact values below 50V, as required by IEC standard. This will also allow to conduct a tripping selectivity, when there are other ELR's and/or RCD's installed in the same line. There are various versions with different power
supplies, in order to meet the end user's requirements. Other important feature is the instrument's insensitivity of the external disturbances,due to the filters installed at the input circuits, so as the insensitivity to
the existing direct currents in the line under control, as required by the VDEstandards.
Nevertheless, its most outstanding feature is the frontal display, which is permanently visualising the actual leakage value, with the possibility of selecting the full scale value, between 20 or 200A, so as the possibility of blocking the reading of the tripping leakage values ("hold" function).
On top of the previous basic characteristics, it's fitted with following features:
a)a double output changeover contact, one can be used for disconnection and the other for an alarm function at 70% of the set
current (the selection of the working type of the second contact is being made by means of a dip switch)
b)It is possible to select the output relay's contacts position. Fail safe (relay excited at rest) or negative safety (the relay is unexcited at rest). The fail safe offers a notorious advantage, since the relay will open in case of a failure, in order to avoid leaving the installation operative without protection.
ELR-8tcs
The present type, without the frontal display, has the possibility of controlling the opening coil and the disconnection circuit. Should there be a failure, the relay would signal same with a LED and a changeover relay (on top of the other 2 contacts) would be activated.
ELR-8MV-tcs
The ELR-8MV-tcs incorporates all the above functions and features in one, plus the mechanical signal, becomes the most complete flush mounting relay 96 mm x 96 mm.
ELECTRICAL CHARACTERISTICS
Auxiliary voltage supply: 110 - 230 - 400 Vac - 110Vdc - 24-48Vac/dc
Tripping current setting range IΔN: 0,025÷0,25A K=0,1 - 0,25÷2,5A K=1 - 2,5÷25A K=10 25÷250A
Tripping time setting range: 0,02 ÷ 0,5 sec. K=1 - 0,2 ÷ 5 sec. K=10
Mechanical signalisation: ELR-8MVtcs
Output: changeover contacts: ELR-8V: Nr.1 5A 250V ELR-8tcs: Nr.2 5A 250V ELR-8MVtcs: Nr.2 5A 250V
Working temperature: -10 + 60°C