ELRC-1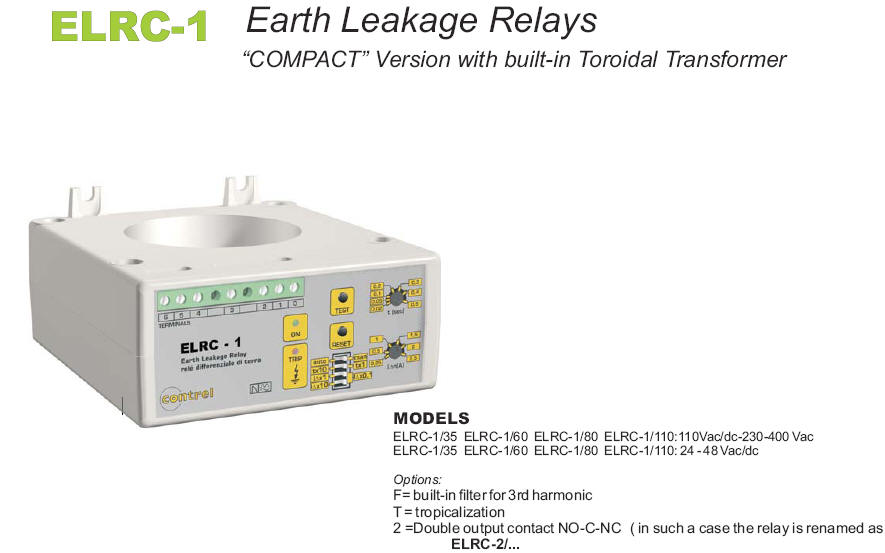 The ELRC-1 have the particularity that they are manufactured with the buit-in Toroidal Transformers. Although its reduced dimensions , the relay has as wide setting ranges as the other ELR's series.
Such a feature allows to easily choose the tripping current value, in the way that the voltage values are maintained below 50V, in compliance with the CEI Standards. It allows also to perform a tripping selectivity, whenever there are more ELR's or RCD's in the same line.Other important feature is its insensitivity to external disturbances and pulse currents with dc components (presents in the line), due to the filters built on the input circuits, as per the VDE Standards.
APPLICATIONS
They are specially conceived for those applications, in which the space saving is an advantage (for example, in MOTOR CONTROL CENTERS, BATTERIES OF DISTRIBUTION, etc.).
ELECTRICAL CHARACTERISTICS
Auxiliary Voltage supply: 24-48V ac/dc / 110 Vac/dc - 230 - 400 Vac
Current tripping ajustment range IΔN: 0,025÷0,25A K=0,1 - 0,25÷2,5A K=1 - 2,5÷25A K=10
Output: 2 change over contacts: 5A 250V
Working Temperature: -10 + 60°C